Created By Tejas Jasani | Last Updated on : 12 December 2015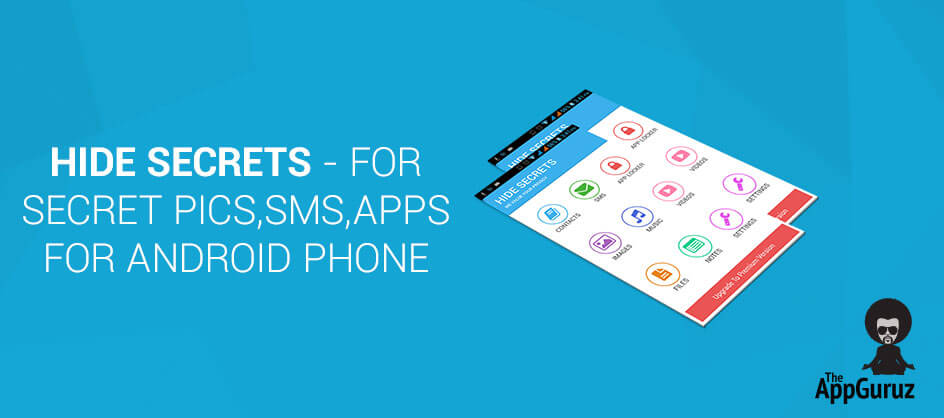 Objective
Main objective of this post is to give an overview about the best secret app for android which is known as Hide Secrets - Pics, SMS, APPS

TheAppGuruz, the prominent App development company across mobile platform had launched it key application for android named "HIDE SECRETS".

Hide secrets is basically a utility for Android base mobile phone which must have in every android mobile. Keeping a secret can be difficult; when it is in a mobile phone it might be near impossible. But now it is not impossible through Hide Secrets App. It is used to keep safely our private and personal data when someone is monkeying around your phone.

Everyone have some sort of secrets, that are requires to kept safe. Hide Secrets is a perfect tool for your android device to keep your phone content hidden in compromising situation. Hide secrets can be used to hide secrets ranging from contact to call logs to messages to videos etc. Hide Secrets is 100% ADS FREE !! Hide Secrets lets you hide everything you can imagine - Contacts, Call Logs, SMS, Pictures, Videos, Any kind of Files, Settings Security, Lock Apps and hide personal data in the secret vault.

Some Features of Hide Secrets App:
Step 1

Secret Contacts, Call logs, Text Messages

You can create secret contact, private call-list, all call logs and messages of secret contacts would be shown in secret app only.
Step 2

Apps Locker

Protect your secret apps - WhatsApp, FaceBook, Instagram, Twitter, Phone Gallery and File Manager… by adding to Hide Secrets. Apps are either protected by pin, password and pattern lock or by fake crash. Fake Crash (Premium) – It is an advance feature which makes fool others will always think that your android secret app is getting crashed while only you know how to open your Hide Secret app.
Step 3

Files, Notes

You can hide your personal and private notes (Credit card details, Bank A/Cs, Email password, PAN…) and text files in Hide Secrets App, hence make sure it didn't fall into wrong hand.
Step 4

Keep the Messages Secret

you can also import important messages from inbox to the secret inbox of Hide Secrets app. Hide Secrets must be used to access secret messages again and again.
Step 5

Images and Videos

Hide Secrets app also protect multimedia files by moving your private images, music and videos to Hide Secrets vault, then it can be viewable with the correct password.
Step 6

Invisible Mode

You can completely make Hide Secrets invisible by choosing to hide the app icon from settings. By enabling this feature, you can avail maximum security for your data.
Step 7

Triple Layer Security

If you want Z level security for your data than you can choose all the three types of locks for the app instead of choosing only one type of lock. We give you three locks namely: PIN Lock, Password Lock and Pattern Lock. Nobody would be able to open the hide secrets app just by knowing a single password, which gives more security to your data.
Step 8

Hide Secrets Protector

If someone can uninstall hide secrets app from your phone, how can it protect your data safely? It is very critical situation Hide Secrets app come out by enabling this feature, nobody would be able to uninstall hide secrets app without entering correct password which gives you Z level security.
Step 9

Escape PIN

This is like fake secret vault. If you are stuck in a situation where you can't say NO and have to open the app, you can put escape PIN which will open the app but it won't show any of your data.

Note: Pricing, availability. HIDE SECRETS is available for free to the android devices from GOOGLE PLAY STORE. It is prone to hacking so don't trust any download other than play store they may get your data through it.

Screenshots:
Got an Idea of Android App Development? What are you still waiting for? Contact us now and see the Idea live soon. Our company has been named as one of the best Android App Development Company in India.
Created on : 10 September 2014

An entrepreneur who has founded 2 flourishing software firms in 7 years, Tejas is keen to understand everything about gaming - from the business dynamics to awesome designs to gamer psychology. As the founder-CEO of a company that has released some very successful games, he knows a thing or two about gaming. He shares his knowledge through blogs and talks that he gets invited to.