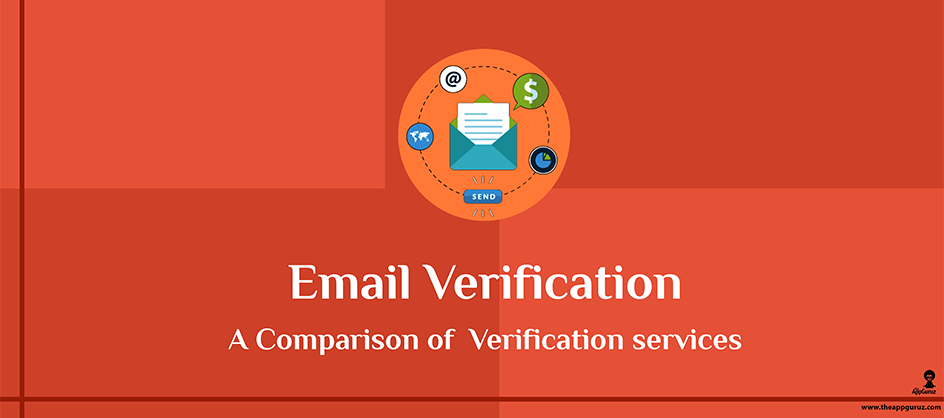 Objective
The main objective of this blog post is to compare various email verification services and help marketers select the most appropriate service provider.

Introduction

Email verification is an absolute must on the list of every marketer. After all, the entire success of your email marketing campaign rests on the quality of your email address lists.

Email address verification is important because email marketing has proven to be one of the top channels of marketing. And it's not surprising, given its reach, ease of access and cost effectiveness.

As with anything worthwhile, email marketing too requires a certain level of discipline. Marketers who follow a disciplined approach are rewarded a lot better; those who don't are mostly sidelined and often penalized.

As the number of subscribers in your email list swells, you'll want to ensure you maintain a verified email list – an email list which contains only those email addresses that are verified and accurate.

That's one of the many reasons marketers are on the lookout for the best email list verification service out there. This post compares various bulk email verification service providers, including their real-time email verification API, so that you can choose the one that most suits your requirements.

"Did you know the maximum number of characters an email address can have is 254? (Source: Wikipedia)"

Here's a presentation that will give you an overview of email verification and help you better understand the process.
What is email verification
In simple words, email verification is a non-intrusive process that verifies whether a given list of email addresses are accurate, valid, deliverable and safe-to-send. It is also known as email list cleaning, or the process of maintaining the hygiene of the email list. This service is offered as an online SaaS (Software as a Service).
As a result of your content marketing or inbound marketing initiatives, hundreds and thousands of users may have submitted their email addresses and subscribed to receive emails from you. Some of these users may have keyed in incorrect email address, intentionally or by a typing error.
Over time, your email address list will have an unnervingly large number of incorrect email addresses. If you send emails to these addresses, your email will bounce and soon ISPs will start treating you as if you were a spammer.
That means emails sent from your IP will be diverted to the Spam folder of your recipients, in spite of the fact that you aren't a spammer! And who reads mails from the Spam folder?!
That's why you'll want to verify email addresses in your mailing list before you start sending out emails.
It will provide you a list that is 'clean', as in it doesn't contain any incorrect or dubious email addresses. When you use this list to send out email in bulk, they won't bounce.
Because of this, email servers (say Gmail, Yahoo, AOL etc.) classify your IP address as one with a better reputation and start sending your emails to the Inbox of the recipient. With an improved deliverability of your emails, your marketing program is now bang on target!
"Email verification is carried out without sending an actual email to the recipient."
How is email verification done
Email verification isn't the same as sending an email to test email address and seeing if the email bounces. The objective is to check email validity, or, more specifically it is an email address check.
The process involves several steps. Typically, the email validation tool will begin by checking the syntax of the email address, For instance, if the address contains spaces or unacceptable characters or if the "@" sign is missing, the email verification tool rejects the email address as invalid.
If the syntax is proper, the system goes further to check if email is valid. Different email verification services, both a free email verifier and a paid email verification tool, use different processes to verify email address without sending email.
Finally, the email address is pinged without sending an actual email. This is done to check if email address is valid. If the email address is valid, it is added to the valid email address list.

Why email verification is important
Email verification is not just important, it is critical. As a matter of fact, for a marketer looking for long-term relationship and engagement with the subscribers, it is almost mandatory. It gives a head-start to your marketing initiatives. If the marketer does not verify email list regularly, bounce rates may increase over time, hurt Sender Reputation and affect email deliverability.
Briefly, here are some of the reasons why you should verify your email list and maintain a verified email list:
It reduces email bounce rate and cuts your email marketing costs.
It improves email deliverability rate and email open rates.
It protects your sender reputation and also improves Sender Score of your IPs and domain.
It improves your overall email marketing ROI.
It gives you more accurate results, since your emails are reaching people, not just dead inboxes.
What to look for in email verification services
You need to select your email verification service provider smartly. Choosing the wrong email checker means lost opportunities, loss of valuable time and money and lowered sender reputation. Further, your marketing campaign might turn out to be a dud and, for all you know, your data might have been compromised, if you choose a wrong email verifier.
Following are some of the points you'll want to pay heed to while choosing a email verification service provider:
Accuracy: How accurate is the verification process? An incompletely verified email list is almost as bad as a list that is not verified.
Speed: How fast is the verification process? This becomes even more important if you're using their API for real time email verification.
Free Credits: Does your service provider offer free credits? It will help you test out a small part of your database and check verification service results.
Costing: Is the service expensive? A dollar or two may not sound like much, but don't forget a $5 service is basically 25% more expensive than a $4 service!
Support: What level of support the service provider can offer? And how swiftly? You don't want to wait a week for Support to respond to a small request of yours.
Data protection: Does your data remain intact? It'd be terrible if your data gets compromised at the service provider's end.
"Don't forget that a $5 service is basically 25% more expensive than a $4 service!"
Comparison Overview
Service Provider →
QuickEmailVerification
BriteVerify
Xverify
NeverBounce
KickBox
DataValidation
Criterea ↓
Price per 250,000 credits
$660
$2,000
$750
$750
$750,
$750
Free Trial Available
YES
No
NO
YES
YES
NO
Free Credits
3,000 Credits Per Month
NIL
NO
1,000 API Credits (List verification is not free)
100 Credits One-Time
NO
Delivery Accuracy
98%+
N/A
N/A
97%
95%
N/A
Time Taken
75 minutes for 100,000 credits
100-110 minutes for 100,000 credits
120 minutes for 100,000 credits
90 minutes for 100,000 credits
90 minutes for 100,000 credits
130-140 minutes for 100,000 credits
Auto Correction
YES
N/A
YES
N/A
YES
NO
Signup Requirements
No Further details required
LinkedIn profile or personal details required
Credit Card details required
No Further details required
No Further details required
No Further details required
Email Verification Service providers comparison
There are a large number bulk email verification service providers out there. We studied most and retained for further analysis the ones that figured on top, based on features that matter the most to marketers. Here's a comparison of the top service providers, which will help you identify the service provider that best fits your requirements.
Considered one of the most reliable email verification companies globally, QuickEmailVerification comes with a great combination of extremely competitive pricing that's hard to beat. Even more impressive is their 99% Customer Satisfaction rate.
Their clientele ranges from Fortune 500 conglomerates to SMEs and bloggers. Their highly trusted and accurate system is integrated with almost all leading ESPs, giving you further convenience. They cover bulk email verification as well as individual real-time email verification with their API, when users key in their email addresses in the signup form.
After the verification process, their system will categorize the addresses as valid, role-based, disposable, unverifiable and so on. This will help you determine which of the addresses you'd like to keep and which to retire.
You are not charged for the email addresses that are labeled Unverifiable. And the best part is they assure you of complete security of your database. If you face any difficulty, you can easily contact their friendly and swift support team.
We also recommend checking out their blog that carries valuable posts, great infographics, expert interviews and so on.
Deliverability: QuickEmailVerification offers a guarantee of over 95% deliverability.
Speed: It will take about 75 minutes for verification of approximately 100,000 email addresses.
Free Credits: QuickEmailVerification offers 100 Free Credits per day.That's 3,000 a month.
Costing: Fees begin at $4 for 500 credits. The fees is $35 for 5,000 credits and $1,350 for 1,000,000 credits. For bigger requirements, you can get still better rates.
BriteVerify is another major email verification company you may want to check out. They offer solutions to clean your email address database. This will improve the quality of your email list and hence maintain your sender reputation.
They offer both bulk email verification solutions as well as an API-based real-time verification. According to their website, BriteVeirfy can reduce your bounce rate by 98%. With a validated email list, you can expect better engagement with your recipients and keep taking them to the next level in your marketing funnel. Both B2B and B2C email addresses are verified.
Their system is tuned to verify and clean entire email lists that may run into hundreds of thousands. Their API helps you check email address, in real-time, each email address before it enters your email address list through your sign-up form.
No separate download of software is required; once you sign-up for their service you can directly upload your database in your account and the rest is taken care of. You will get a detailed breakup of the result showing which addresses are valid and which aren't. Whatever credits you purchase do not expire.
Deliverability: The website does not mention the exact rate of deliverability it offers.
Speed: It will take about 100-110 minutes for verification of approximately 100,000 email addresses.
Free Credits: Their website does not mention any Free Credits.
Costing: Fees begin at $5 for 500 credits. The fees for 5,000 credits is $50 and $5,000 for 1,000,000 credits. Please contact Support for bigger requirements.
A trustworthy solution-provider for your requirements, XVerify improves your online marketing efforts and gets you better ROI. They improve email deliverability by removing hard bounces and bring down spam complaints to almost nil.
XVerify has a drag-and-drop facility to simplify the process. You simply drag your email list, click upload and soon enough you are returned a fully verified email list. Invalid or role-based email addresses are shown separately so that you don't use them again. You can purchase credits from a range of pricing options that begin at $5. They offer competitive, flexible deals for larger packages.
Furthermore, they claim an accuracy of over 98% across various email domains. Finally, their email validation process checks everything from the syntax to the last technical details and return you a cleaned mailing list that you can instantly use for your marketing campaigns.
Deliverability:Their website does not mention deliverability rates.
Speed: It is estimated that it may take upto 120 minutes for verification of approximately 100,000 email addresses.
Free Credits: Their website mentions Free Liquid List Assessment, but does not specify the number.
Costing: Fees begin at $5 for 500 credits. The fees is $40 for 5,000 credits and $1,500 for 1,000,000 credits.
Whether you are sending out a routine newsletter or a promotional email sharing some exciting details of your product, your email needs to reach an active recipient, not a dead Inbox. NeverBounce can help improve the hygiene of your email list and clean it so that your emails go out only to valid email addresses.
An established name in the email verification industry, NeverBounce makes sure you achieve results with your email marketing campaigns. Its verification process removes dead, incorrect, fake or disposable email addresses and returns you an email list that is ready to use.
NeverBounce offers 97% guaranteed delivery. It verifies email addresses as they enter your mailing list from multiple sources, be it your Contact Us form, Landing Pages, CRMs, Newsletter Sign-up forms and so on. You may upload an email list via your NeverBounce account, and, depending upon the size of your database, soon enough you get a verified email list ready for download. Alternatively, you can straightaway update your email list in your ESP's account.
Deliverability: NeverBounce offers 97% deliverability.
Speed: It will take about 80-90 minutes for verification of approximately 100,000 email addresses.
Free Credits: They offer 1,000 API credits free per month.
Costing: Fees begin at $4 for 500 credits. The fees is $40 for 5,000 credits and $5,000 for 2,000,000 credits.
Another leading service provider for email verification, KickBox offers 95% deliverability guarantee. They offer a swift yet reliable way to verify email lists.
They have been in the email industry long enough and have earned a sound reputation. Their robust systems are geared to verify hundreds of thousands of email addresses in a relatively short time. Apart from that, you can also choose to use their API, which helps you verify email addresses real-time when potential subscribers key in their email address in the form on your website.
After the list cleaning process, their system classifies the email addresses on your mailing list as Deliverable, Risky, Undeliverable or Unknown. That helps you take appropriate decisions for your campaign and keep your email list squeaky clean.
Pricing options start from 500 credits and range upto 2.5 million. Their website also has some case studies you can refer to.
Deliverability: Kickbox offers a 95% deliverability rate.
Speed: It is estimated that it will take about 90 minutes for verification of approximately 100,000 email addresses.
Free Credits: 100 Credits are free, after you sign-up.
Costing: Fees begin at $5 for 500 credits. The fees for 5,000 credits is $50 and $1,500 for 1000,000 credits. Please contact Support for bigger requirements.
For those looking for a self-service platform to verify their email lists, DataValidation is another great option. The interface is simple and easy-to-use. You can directly upload your email list and DataValidation takes over. Alternatively, you can sync your ESP account with your DataValidation account. This sync will pull all the email addresses and verify the entire lot.
After the verification process ends, an Email Assurance Grade ('A+', 'A', 'B', 'D' or 'F') will be assigned to each email address, based on deliverability to the email address. This grading takes into account factors like history of clicks, unsubscribes, bounces and so on. You may download the entire verified email list. Alternatively, you can update your email list with your ESP.
DataValidation also offers API-based verification, which means every email address your user tries to enter into your mailing database will be checked in real-time.
For instance, you may be running a blog where visitors enter their email address to sign-up and receive your newsletter. Every time someone enters an email address, a chain of events will be triggered. As a result, the API will validate whether the address entered is deliverable or not.
Deliverability: The site does not mention their deliverability.
Speed: Approximately 130-140 minutes for verification of 100,000 email addresses
Free Credits: There are no free credits. However, you can get a free report for the email list you upload, before you buy credits.
Costing: Fees are $3.5 for 500 credits. Fees for 5,000 credits is $35 and $ 2,000 for 1,000,000 credits. Contact for requirements bigger than 3M.
Email Verification Results' Terminology
Once you have carried out email address verification, your service provider will give you a cleaned list. Typically, the list will categorize each email into one of the five or six categories. No email address should be left uncategorized and each email address will fall under exactly one category.
The most common, and perhaps the most useful, categories under which each email will be listed are as follows:
Valid or Deliverable email address
Invalid or Undeliverable email address
Role-based or Functional email address
Disposable or Temporary email address
Accept-all or Catch-all email address
Unknown or Unverifiable email address
Type
Explanation
Remarks
Valid or Deliverable email address
Emails sent to these addresses should be delivered. The existence of this mailbox has been confirmed with the email server.
These are the best addresses to send your emails to.
Invalid or Undeliverable email address
The email address doesn't exist. Reasons for an email being invalid include a typo, a syntax error or a non-existent mailbox.
For instance
[email protected] (incorrect name: Jhon instead of John)
Or
somename@yahoocom
(the dot between yahoo and com is missing).
Or
[email protected]
(the mailbox does not exist)
These addresses don't exist, so any emails sent to this address will bounce. You must remove these email addresses from your email list.
Role-based email address
The email address is valid, but used by anyone who occupies that position or works in that department.
e.g. [email protected]
[email protected]
Emails sent to this address may not bounce, but it's pretty much meaningless to send bulk emails to these addresses. It's unlikely your email will be read by a specific individual or your target recipient.
Disposable or Temporary email address
These are neither long-term nor useful addresses. A disposable email address is basically a fake email address, mostly used for one-time communication (e.g. to get a coupon) and then is discarded forever. Service providers include mailinator.com, throwawaymail.com, etc.
It's best not to send emails to this address, since it has practically no engagement value.
Accept-all or Catch-all email address
No matter what name you write, this domain will accept all emails. Thus
[email protected]
[email protected]
[email protected]
[email protected]
will all be taken in by the domain "somename.com" but will most likely be destroyed moments later. They may or may not send bounce message.
The jury's still out on whether you should send emails to such addresses. On our part, we believe it's best to be wary of sending emails to such addresses.
Unknown or Unverifiable email address
Some email servers may not share enough information or may have been down at the time of verification. Hence it's not possible to determine whether a particular email address exists. Therefore, such email addresses are termed Unknown or Unverifiable email address.
Try testing these addresses after a short while and see what do the results show. While there's no fixed rule, it is generally believed trusted email servers are not in the habit of being down.
Types of Email Verification Processes
There are two alternative processes by which email verification is carried out.
API-based real tIme email verification
Bulk email verification or email list verification
1. API-based real time email verification
This process verifies every email address real-time. When the visitor to your site enters her email address, certain actions are triggered. Instantly a series of tests are carried out and the email address is verified before it enters your database. This process is meant to verify email address real-time.
In case the address is incorrect, the address is rejected and the user may be prompted to re-enter a valid address. This is an extremely quick process, usually taking no more than a second or two per address.
2. Bulk email verification or email list verification
You can also verify the email addresses stored in your email lists. It doesn't matter how many addresses are there in your email list – there could a few thousand or a million. This is also called batch verification.
All top email validation companies will offer you two options for email verification:
Upload your email list directly to their site and get the list cleaned
After the entire list of email addresses is verified, you may download the cleaned list for your future use.
Integrate your ESP (Email Service Provider) with the verification company
You can verify your email list you have parked with your ESP, use the simple integration tool, and update the verified list with the ESP again.
Conclusion
As you just saw, there are a number of factors to consider when you are choosing an email verification service provider that will check email address validity and scrub email list you have.
Now the important question: Which of these is the best email address verification service?
Before we answer that, there's a question for you.
Do you have any special requirements that the above factors did not cover?
It's unlikely that we've left out anything important in the post above. However, if you do have a factor that we did not cover, your answer will be different from ours.
This is what we feel. Each of the services covered above has something special to offer. On the whole, however, we feel the following two email address verification services are the ones we recommend with 5 stars.
QuickEmailVerification: After careful analysis and testing we feel QuickEmailVerification is the best email verification company. Their rates, service and accuracy are very difficult to match.
BriteVerify: Yes, we know their pricing is on the higher side. Yet, our evaluation found they are a great email validation company. And they have a long history too.
Created on : 25 August 2017

An entrepreneur who has founded 2 flourishing software firms in 7 years, Tejas is keen to understand everything about gaming - from the business dynamics to awesome designs to gamer psychology. As the founder-CEO of a company that has released some very successful games, he knows a thing or two about gaming. He shares his knowledge through blogs and talks that he gets invited to.